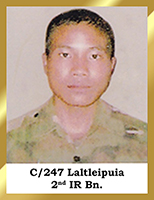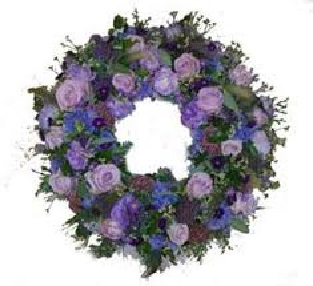 Name :  C/247 Laltleipuia, 2-IR Bn.
Date & Place of Occurence : 29.11.2007 at Near Muraliguda (Chhattisgarh)
Brief of Action causing such death : On 29th Nov 2007 at around 5:30 AM, 9 (nine) personnel of 2nd IR Bn.  posted at Banda left for Konta town to collect rations.  After collecting rations, the party now comprising of 10 (ten) personnel left Konta at around 1:00 PM for Banda Post, hiring one civilian vehicle bearing registration No.MP-23-1943 (Mahindra Jeep-Commander) 
At around 1:30 PM when the party was 2 (two) kms. from Banda post near Muraliguda (deserted village), Naxalite exploded a powerful I.E.D. planted on the road. The vehicle with its 12 (twelve) occupants were thrown within a radius of 200 mtrs., causing 4 fts. deep crater with 8 fts. diameter. C/247 Laltleipuia was one of 10 persons who died on the spot.