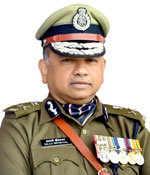 I am extremely delighted to learn that the official website of Mizoram Police has been redesigned and updated. I am sure that the website will be extremely useful to members of the police as well as the public and hope that it serves as a medium for dissemination of official information and for strengthening police-public relations.
It is a matter of pride for all of us that Mizoram Police has achieved so much in the last few months. The Law & Order, Crime and Traffic have remained well under control. In addition, large quantities of illicit liquor, several consignments of drugs/narcotics have also been seized. Our sportspersons have achieved laurels in many disciplines both inside and outside our State.
I want to convey my heartfelt appreciation to the Public, the civil society groups, NGOs, MPF, MKHC, YMA, Media, all Political Parties and all officials for ensuring free, fair and incident free MLA Election on 28.11.2018. The peaceful democratic behavior shown by the public, active participation and cooperation of all stakeholders; the outstanding commitment and professionalism shown by all the Officials on duty during the whole electoral processes for ensuring free, fair and peaceful election without any untoward incidents is unparalleled anywhere in the country. It fills me with immense pleasure in learning that voters could peacefully exercise their franchise in all the 1164 Polling Stations and the 15 Special Polling Stations established for Bru Voters at Kanhmun, Mamit District.
        Mizoram Police will continue to strive in its mission to serve all sections of society and I am positive that Mizoram Police will have further successes in all the fields and duties it has been assigned.
          Jai Hind.
          Lalpa'n malsawm che u rawh se.

(BALAJI SRIVASTAVA) IPS
Director General of Police
Mizoram